Links to more articles at the bottom.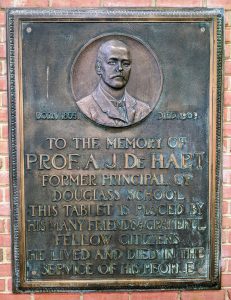 Andrew Johnson (A. J.) DeHart deserves wide recognition as a pillar of the Walnut Hills community. Born in Mississippi in 1855, A. J. graduated from Gaines High School in 1873. From there, he pursued dual careers in education and the ministry and worked in various states until returning to Cincinnati as Principal of Frederick Douglass School from 1886 until his death in 1909. These brief facts only hint at his leadership in our neighborhood. A Congregationalist Minister, he regularly preached at various churches. He was a philanthropist and served on charitable boards. His wife, Jennie Jackson DeHart, had been a founding member of the Fisk Jubilee Singers and continued to bring high musical culture into our community. Most important, perhaps, was his influence on the students and institutional life of Frederick Douglass School. By the time of his death, that institution could boast of many well educated teachers, a facility that served not only the day students but also the larger Black neighborhood, and had roots strong enough to support Cincinnati's influx of Blacks from the South during the Great Migration.
In a series of articles, Geoff Sutton brings back to our historical memory the achievements of this great man, placing him within the context of Reconstruction and post-Reconstruction Black career patterns and community support systems. Enjoy learning more about A. J. DeHart!