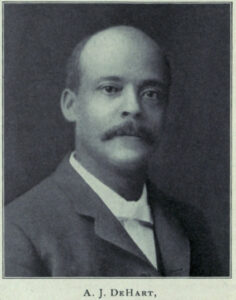 J. DeHart visited Cincinnati from time to time during his sojourn in Tennessee in the early 1880s. When in town he frequently spoke at churches or public events. In July 1885, he came to our city to visit his ailing mother, who died while he was in town. Her passing left DeHart as apparent heir, since his brother Cyrus had died in 1879. Her house was valued at over $3,000 and she left a cash estate of about $1,500. DeHart's financial situation in Cincinnati was suddenly much more attractive than when he left more than five years earlier.
Another Cincinnati death during the same month had equally momentous consequences. Philip J. Ferguson, a teacher in the Eastern District Colored School downtown, died of consumption (now known as tuberculosis), the deadliest infectious disease of the later nineteenth century. He had graduated from Gaines High School in 1870, just two years before DeHart, and the two had taught together in the Colored Schools during the mid-1870s. They shared an interest in and a talent for music and even sung together in a fundraiser for Union Baptist Church in 1876, shortly before DeHart left for Cleveland. DeHart spoke at his colleague's memorial service during the same week he buried his mother. It was already rumored in July that DeHart might replace Ferguson as teacher and assistant principal at the Eastern District Colored School.
In August DeHart returned to Nashville to make decisions about his future. By the end of the month, he accepted the position in Cincinnati's Eastern District School vacated by Ferguson's death and settled his affairs in Nashville. He returned to Cincinnati with Fisk Jubilee Singer Jennie Jackson. The two were married in the Queen City on September 10, 1885. A newspaper account reported that Miss Jackson, made wealthy by her singing, gave her new husband a valuable diamond stud as a wedding present. As Mrs. DeHart, she immediately resumed her career as a Jubilee, departing for Philadelphia to begin a two-year tour. Newspaper accounts said she would earn expenses plus $140 per month, conspicuously more than Mr. DeHart's $1000 annual salary in the schools.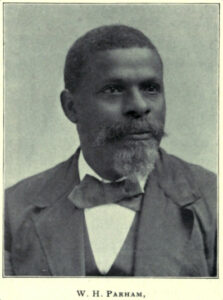 DeHart rejoined the Colored Public Schools of Cincinnati on the eve of the greatest turmoil in their post-Civil War history. We have seen that Peter Clark, principal of Gaines Colored High School and the most prominent Black intellectual in Cincinnati, would be fired by the (white) school board in 1886 for political reasons. His removal caused a cascading change in leadership in the Colored Schools for the first time since the founding of Gaines in 1866. Walnut Hills resident William H. Parham had served as the superintendent of the Colored Schools since that same year – a position retitled "Principal of Colored Schools" in charge of the Eastern District when the white Cincinnati School Board took over the Black system in 1874. Parham had collaborated with Clark in the Colored Normal School set up to train teachers in 1868. After Clark's forced resignation and exodus from Cincinnati, Parham took over as principle at Gaines which operated successfully under his leadership.
Like the death of Phillip Ferguson, Parham's move to Gaines opened a long-held position in the Eastern District Colored Schools. The district included the schoolhouses in the old Bucktown area near Eggleston Avenue east of Broadway in the east end downtown, and the 1870 Elm Street Colored School in Walnut Hills (later called Frederick Douglass). In June 1886, just a year after his return to Cincinnati, A. J. DeHart took over from Parham's 20-year tenure as Principal of the Eastern District including the two schoolhouses already mentioned and supervision of a 2-room Colored School in Cumminsville.
DeHart also picked up where he had left off in the religious and civic life of the African American community. He did not pastor a congregation, but he served as a popular guest preacher and frequently offered opening blessings and closing prayers at public gatherings. As early as July 1885 he opened a Black memorial service for President Ulysses Grant. Grant's reputation as president has waxed and waned many times, but it is indisputable that he had protected the Freedmen and defeated the Ku Klux Klan during his two terms in office, 1869-1877. His reputation in the Black community, especially after the disastrous withdrawal of Union troops from the South during Hayes administration beginning in 1877, remained high. We shall see that DeHart also returned to a leadership role in both the musical life and Civil Rights struggle in Cincinnati.
For all our articles about A. J. Dehart, see A. J. DeHart: Minister, Educator, Civic Leader