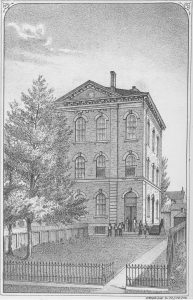 In 1886, Andrew Johnson DeHart became principal of what was then called the Walnut Hills Colored School. He served until his death in 1909. Under his leadership the name was changed to Frederick Douglass School. DeHart became a pillar of his community, active in music, religion, politics, sports, civic organizations, and business as well as education. The next several posts will follow his career inside and outside Douglass.
Andrew was born in Mississippi in 1855. His mother, Julia Johnson, was enslaved, and his father was her enslaver. It seems likely that the father's last name was DeHart. At some point before or shortly after the Civil War, DeHart took his Black family to Cincinnati, bought Julia Johnson a substantial house on Richmond Street downtown near Plum, and then seemingly withdrew. The sequence of the Civil War, the Emancipation proclamation, Julia's move to Cincinnati with two young sons (Cyrus and Andrew Johnson DeHart) is unclear, but Andrew made his way into the Cincinnati Colored Schools and enrolled in Gaines High School shortly after it opened in 1866.
There are lots of statistics in the reports of the nineteenth-century Colored Public Schools, but full student lists are not available. "Andrew Johnson" – presumably our A. J. DeHart enrolled under his mother's name – appeared on the Gaines list of "Meritorious Scholars" beginning in the 1868-69 school year. That would put him in eighth grade. It could be that he enrolled the year before as a seventh grader but didn't excel sufficiently at that age to make an appearance in the annual report. From 1869-70 the "Meritorious Scholars" list included "Andrew J. De Hart" each year through his graduation in 1873. Yet not all was seriously studious; we have seen in an earlier series of posts that Peter Clark coached a fine baseball "nine" at Gaines, and that DeHart had his place on that team.
DeHart finished first in his class and participated in a grand graduation exercise at Robinson's Opera-house. Practically all 53 of the students at the high school participated in musical selections, and in a closing "Patriotic Tableau." There were nine "Declamations" – recitations of poems or short essays – which formed an important aspect of public speaking in Black and white culture during the nineteenth century. DeHart declaimed "The Gladiator" – probably a selection from a popular play about the Roman slave Spartacus who led a revolt: "Ho, slaves, arise! it is your hour to kill! Kill and spare not – For wrath and liberty!" (Again, we note that the tone was not all classical scholarship. "The wrong Tom Cat" by Osbert Early, a younger student in a fine old Black family in Walnut Hills, was a lighter presentation of a popular poem.) The three graduating seniors – DeHart, Martha (Mattie) Peyton and the principal's daughter Ernestine Clark – presented their graduation essays as well.
All three of the graduates took and passed the exam for certification as teachers – required of Blacks and whites – in the Cincinnati Public Schools. DeHart, first in his class in 1873, won an appointment in the Colored "district" elementary schools; Mattie Peyton did likewise. Ernestine Clark spent next year at the white Normal School (for teachers) and took a position at Gaines High School.
For five years, DeHart lived in his mother's house and taught downtown – and continued to play for the Vigilants! During this time, he became increasingly involved in the church. We will return to his third career as the principal at Frederick Douglass in a later post. The next one, however, will take a detour through a second career, away from Cincinnati, in the ministry.