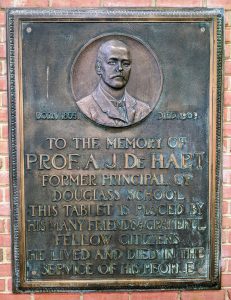 Andrew J. DeHart was born in Mississippi in 1855. His early biography is obscure, but by in 1870 he was in Cincinnati, enrolled in the new segregated Gaines Colored High School in the West end. DeHart earned a place on the list of meritorious students for all four of his high school years and graduated in the small class of 1873. (It's interesting to note that only three students graduated that year, because most of the class transferred to the new Normal School at Gaines, aimed at preparing teachers.)
We will return to Andrew DeHart's career and accomplishments in a later post, but for the present we'll look at his life in baseball. He played under principal Peter Clark at Gaines. After graduation DeHart joined the Vigilants Black Baseball Club in Cincinnati. He appears on the roster at shortstop in 1875 and 1876, along with at least three other Gaines graduates. Neither DeHart nor the Vigilants leave many traces in Cincinnati after those years. Yet a decade later Andrew DeHart returned to the city, married the famous singer Jennie Jackson of the Fisk Jubilee Singers, and became the principal of the Walnut Hills Colored School. During DeHart's time there, the school would be renamed Frederick Douglass School.
The Walnut Hills Colored School included both what would now be called an elementary school and a Junior High – grades 1 through 8. With many Black migrants to Cincinnati, especially from the South, the students at the school were often older than their white peers at a given grade level; it included many adolescents. Like his mentor Peter Clark at Gaines High School, Andrew DeHart encouraged his students to participate in sports. Both men commanded tremendous respect in their communities.
The most famous Douglass School student athlete was in fact named after the principal: William DeHart Hubbard went all his life by DeHart. Hubbard would become the first African American to win an individual gold medal at the Olympics, in the 1924 long jump. Best known as a track and field star, we shall see that Hubbard also played baseball, and played a crucial role in the development of Black Baseball in Walnut Hills and Cincinnati.
– Geoff Sutton