Manse Hotel and Annex (1932-1967)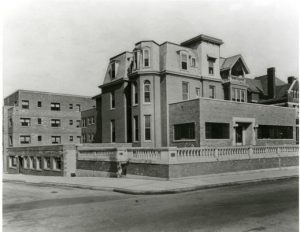 1004 Chapel started as a large home around 1876.[i] Horace Sudduth bought it and the row across the street in 1931, naming them the Manse Hotel and Annex.[ii] He upgraded the rooms and restaurant; dinner parties used the Federation of Colored Women's Clubs house next door for dancing.[iii] The Manse appeared in the Negro Motorist's Green Book from 1940.[iv] Future Supreme Court Justice Thurgood Marshall attended the NAACP convention here in 1946.[v] By 1950, the hotel added new rooms and facilities.[vi] Frank Robinson lived in the Annex as Reds NL Rookie of the year in 1956.[vii] Black entertainers stayed at the Manse and musicians played the ballroom through the segregated 1950s and into the '60s.[viii]
More on Horace Sudduth on the other side
Horace Sudduth (1888-1957)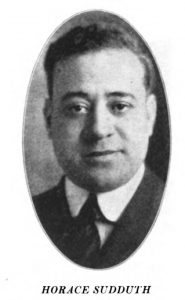 African American Real Estate broker Horace Sudduth, born in Covington, KY graduated from the segregated Grant High School there and became a Pullman Porter.[ix] With his wife, Melvina, he settled in Cincinnati's West End in 1910 and opened a real estate office and other businesses.[x] He also raised funds for the Black Ninth Street YMCA (1916) and headed its board.[xi] In the late 1910s he opened an additional office in Walnut Hills and moved to the neighborhood in the 1920s.[xii] He founded the Industrial Building and Loan, providing savings accounts and mortgages to Blacks.[xiii] His other businesses included Walnut Hills Enterprise Company and the Creative Realty Company, both funded by small investments from the community.[xiv]
More on the Manse Hotel on the other side
[i] For extensive documentation on the history of the property see the National Register of Historic Places Registration Form, (NRHP) available at
https://www.ohiohistory.org/OHC/media/OHC-Media/Documents/SHPO/IR/Civil_Rights_MPD/NR_ManseHotel_MP100004232.pdf
The house is dated "c. 1876"; the first reference I have found is in the 1878 Williams Directory listing "Wm. Van Vleck. h. n. e. c. Beech and Chapel Ave, Walnut Hills." Williams and other Cincinnati directories are available online from the Cincinnati and Hamilton County Library at https://digital.cincinnatilibrary.org/digital/collection/p16998coll5/search/searchterm/Cincinnati/field/title/mode/all/conn/and/order/search. In 1880 the same address was listed for Myron Tilden. For more on Van Vleck, a one-time Lane Seminary Student, and on Tilden, see NRHP p. 21. Beginning in 1882 the address was occupied by Albert Hayward and the next year also his son A. W. Hayward. Various Haywards occupied the home through 1904. Concerning the directory address: In an 1884 cadastral map labeled the directory's "Beech" is labelled "Mulbery" [sic]. Beech, later renamed Kemper Lane, was the name of the road south of the Lane Seminary Campus; an unnamed path through the campus connected to Mulberry, the same road north of the campus. In the 1890s Mulberry was renamed Monfort. Chapel and Monfort were stable street names. For the earliest map, see Robinson, Elisha, Atlas of the city of Cincinnati, Ohio : from official records, private plans & actual surveys 1884, Plate 18 online at https://digital.cincinnatilibrary.org/digital/collection/p16998coll9/id/1885/rec/1
[ii] Sudduth arranged the sale of 1004 Chapel to Mozella Terry and her husband William in 1927; "Acquires 14-room house," Cincinnati Commercial Tribune July 17, 1927 p. 13. Sudduth bought the building from the Terrys in 1931; on the cancellation of their mortgage see ibid, May 18, 1930 p. 20. For early advertising of the Manse, see the Black-owned newspaper The Union edited by Wendel Dabney. Examples include June 9, 1932 p. 5, November 24, 1932, p. 7; 1933 October 19, p. 2, November 16, p. 2, December 28, p, 2 when the price of a weekly meal plan dropped from $7.50 to $7.00.
[iii] "YMCA News," The Dayton forum. June 19, 1942, p. 3 under bold "Brilliant Social Affairs are planned"; story continued from p. 2 https://chroniclingamerica.loc.gov/lccn/sn84024234/1942-06-19/ed-1/seq-3/.
[iv] Victor Green's Negro Motorist Green Book, published annually with variations on the title, is available online at https://digitalcollections.nypl.org/collections/the-green-book first listed Cincinnati in 1939 and included a reference to "The Candle Light In – 1004 Chapel St." under Taverns. Beginning in 1940 the Manse had a Hotel listing though the "Candle Light" appeared as a tavern and a restaurant "The New Candle Light" was a third listing for the same address. Candacy Taylor Overground Railroad (Abrams Press, NY, 2020) offers a good introduction. On Green Book sites in Walnut Hills and Cincinnati see https://walnuthillsstories.org/projects/black-business-district-information-from-green-books/ and the linked map and data.
[v] On the NAACP convention where Thurgood Marshall received the Spingarn Medal, its highest award, see The Crisis, June 1946, pp. 181-182. See also NRHP p. 25.
[vi] NRHP p. 26. For local Black press coverage of improvements, see The Union articles: April 15, 1948 p. 2; January 19, 1950, ads: e. g. May 25, 1950, p. 2, touting chef Fred Goode; April 24, 1952, with the old standard ad (see note 2 above) which added the tag line "More for thee, see page 3" where a second ad touted "Rooms for Permanent Guests" Bellhop and maid service and circulating ice water, and "Kitchenette Apartments" presumably in the Annex.
[vii] On Robinson, see NRHP pp. 28-29. He lived in the Manse Annex not only for the 1956 season, but also for the off-season. Cincinnati Enquirer, August 30, 2015, online at https://www.cincinnati.com/story/sports/2015/08/30/-frank-robinsons-80th-birthday–time–remember-his-time–xavier/32462921/ . Another Black player for the Reds in 1956, "Big George" Crowe, also stayed at the Manse: Cincinnati Post August 9, 1956, p. 26, "Reds at Home and Work: George Crowe".
[viii] NRHP pp. 28-29. See also the reminiscence in Allen Howard, "Hotel builder gave blacks a place for social events," Cincinnati Enquirer, September 9, 1995, p. 15
[ix] Middleton, Stephen. "'We Must Not Fail!!!': Horace Sudduth, Queen City Entrepreneur." Queen City Heritage 49 (Summer 1991): 2-20. Online at http://library.cincymuseum.org/journals/files/qch/v49/n2/qch-v49-n2-wem-003.pdf remains the definitive biographical sketch of Sudduth. On the whole he covers Sudduth's business, philanthropic and social networks quite thoroughly. He includes a wonderful array of images. There are a few minor quibbles – he conflates Sudduth's own eponymous real estate office from about 1910 with the publicly traded Creative Realty investment vehicle he founded a decade later, and he does not touch on Sudduth's relations with Donald Spencer. But Middleton is by far the best source, and all the more remarkable for his thoroughness in the days before the internet. Sudduth was also profiled as one of "Three Cincinnatians of Worth" by Will Smallwood in Opportunity, 1947, pp 85-86 published by the National Urban League. It is a more intimate sketch, probably owing primarily to an interview, with little no documentation.
[x] Sudduth, Horace first appeared with an individual entry in the Williams Directory for 1909, listed as an insurance agent 516 W Court St. In also 1911 he appeared at the same address in the Real Estate section. For more information on early evidence of the real estate business see https://walnuthillsstories.org/stories/horace-sudduth-west-end/. The web page also shows Sudduth ran the Lincoln Theater, a vaudeville and motion picture house. On the Lincoln Theater see lease announcement, Cincinnati Commercial Tribune, January 21, 1915 p. 9. On another business, the Home Building and Improvement Company, see Cincinnati Enquirer, 21 Jan 1915, Page 13 (two notices); Cincinnati Commercial Tribune, "Ohio Incorporations," April 7, 1915 Page 8.
[xi] Harry Senger, The Story of the Young Men's Christian Association of Cincinnati and Hamilton County 1853-1953, Parthenon Press, no date, especially "Ninth Street Branch," pp. 89-94 and "Camp Washington Simms," p. 63. For contemporary accounts: "$100,000 Structure for Colored Y. M. C. A. Assured for Cincinnati," Cincinnati Commercial Tribune, November 20, 1912 p. 3. "Assurance is given to Y. M. C. A. Workers: Fund for Erection of Building for Colored Folks Continues To Gain," Cincinnati Commercial Tribune, May 30, 1913 p. 9. "Let Hands of Clock Complete Circuit for Second Time;" Cincinnati Commercial Tribune, June 7, 1913, p. 14. "$27,778.40 Raised by Colored People for New Y. M. C. A." Cincinnati Commercial Tribune, June 10, 1913, p. 2. On the groundbreaking, "Colored Y. M. C. A." Cincinnati Commercial Tribune, April 10, 1915, p. 5. On the opening, "Inspection Day at Negro Y. M. C. A." Cincinnati Commercial Tribune, January 31, 1916, p. 7. On the fund raising, construction, and the early years of operation, see also "Horace Sudduth's Charitable Work during the 1910s" on our web site https://walnuthillsstories.org/stories/horace-sudduth-charitable-1910s/
[xii] Sudduth leased the property at 1010 and 1012 Lincoln in July 1917, "Real Estate Transfers," Cincinnati Commercial Tribune, July 1, 1917 p. 3 Sudduth's Industrial Savings and Loan had office hours there 1 evening a week from 1920. The Walnut Hills real estate office at 1012 Lincoln Avenue, one block north of the site of the Manse, did not appear in the Williams Directory listing until 1926. The directory also listed Sudduth's home address as 2636 Park Avenue in Walnut Hills beginning in 1926.
[xiii] Most of the major events surrounding the Industrial Savings and Loan, with slight variations of the name, appeared in The Union newspaper as either news items or advertisements. An ad that announced of the January 31, 1920 opening appeared in The Union, February 14, 1920, p. 4. The most informative is a story "Building and Laon Association a Success," Ibid, July 24, 1920, p. 1. See also a display ad, "Financial Statement, Industrial Laon & Savings for the fiscal year ending January 22, 1921", Ibid, March 12, 1921, p. 1. A display ad, "Start the new year with a savings account in The Industrial Savings and Loan Co.," Ibid, December 31, 1921. The display ad "Annual Meeting of Stockholders" shown on this page, Ibid, February 4, 1922, p. 3.  For official documentation see "Building and Loan Associations that filed first reports during fiscal year ending June 30, 1921," Thirty-first Annual Report of the Superintendent of Division of Building and Loan Associations of the State of Ohio, Springfield, 1921, p. xx [sic], and the report on p. 363; also, the routine report in ibid., 1922, p 198. Middleton, op. cit., pp 5-6. For more information see our website, https://walnuthillsstories.org/stories/horace-sudduth-industrial-building-loan/.
[xiv] On the Walnut Hills Enterprise Company, "a corporation organized and managed by colored men for the purposes of buying real estate and engaging in mercantile businesses" organized by Sudduth, see The Union, "Sales of Sudduth," September 25, 1920, p. 1. The phrase also appeared in display ads, e. g. ibid, January 1, 1921, p. 3. The company appeared as a business filed July 19, 1920, selling groceries with capital of $20,000 in the Annual Report of the Secretary of State, to the Governor of the State of Ohio for the Year 1921, Springfield Ohio, 1921, p. 50. The company owned the building on the north east corner of Chapel and Alms and operated the grocery store there. Other storefronts and storerooms were rented out to other Black-owned businesses, including a drug store owned by successive Black pharmacists Archibald Dickerson and Anna Beckwith. The Enterprise Company continued to own the building until 1953: "About Town," Cincinnati Enquirer March 8, 1953, p. 103. On the Creative Realty, display ad "Never before in the history of our group had an opportunity to invest in a safe, sound and sure money maker like THE CREATIVE REALTY COMPANY …" ibid, March 1, 1924 p. 4, or "ARE YOU DOING YOUR SHARE? You can become a part owner of the Creative Realty Company …" ibid, September 6, 1924 p. 2. For more information see our website https://walnuthillsstories.org/stories/irene-kirke/