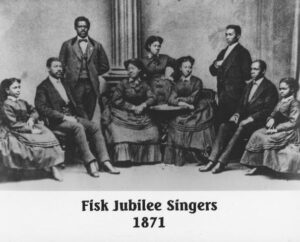 Today marks the 150th Anniversary of the Fisk Jubilee Singers' first tour. On October 6, 1871, a musical group comprised of students from Fisk University, a Historically Black College and University (HBCU) established in 1866 in Nashville, Tennessee, set out on a tour following the routes of the Underground Railroad. The tour lasted until May 1872. It would be the first of many that took the students, some of which were formerly enslaved, across the country and the world. These performances not only raised considerable funds for the school but popularized the African American spiritual as a uniquely American musical form.
We have recently met Jubilee Singer Jennie Jackson as the wife of Cincinnati's Gaines Colored High School graduate A. J. DeHart. DeHart worked as a preacher and teacher in Black communities in Kansas and Tennessee. In 1885 the couple would move to Cincinnati; Jennie Jackson DeHart lived in Walnut Hills until her death in 1910. Gaines had gotten its start in 1866, the same year as Fisk, and sent many graduates in the 1870s and '80s to teach in schools in the South.

The first stop for the Fisk choir came in Cincinnati, giving their first performance on Sunday, October 8. Their concerts were well-received, and garnered some critical praise, although they barely met their expenses. On Saturday October 14, 1871, an announcement in the Religious Notices classified ads in the Cincinnati Commercial newspaper announced: "The Colored Singers, from Fisk University, will conduct a Praise Meeting, in the Vine Street Congregational Church, on SUNDAY NIGHT at 7 ½ o'clock. All are invited."
The Fisk Jubilee Singers would introduce the "Negro Spiritual" to the world. It was the first of many cultural gifts from the African American community.
For more information, see Jennie Jackson DeHart and the Fisk Jubilee Singers
Hashtags: #RiseSHINE, #FJS150, #FiskUniversity, #theyearofJUBILEE