Dangerfield Earley
Dangerfield Earley came to Cincinnati before the Civil War. He and Georgiana Jones married here in 1845. In 1860 they had four children and Dangerfield worked as a cook downtown. He also had a house on Willow Street in Walnut Hills. In 1870 it was worth $7000. That was a lot of money! Dangerfield Earley was also a preacher and a teacher. He started a school in his house on Willow Street beginning in about 1855. Many of his children and later descendants also served on the School Board and worked as teachers at Frederick Douglass School. There is a stained glass window in Bethel Baptist Church on Alms Place that remembers the Earleys.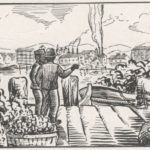 Robert Gordon
Robert Gordon was born into slavery in Virginia. He had the opportunity to do some business on his own in his master's coal yard. He saved a lot of money and bought his freedom. He moved to Cincinnati in 1847 and opened a coal business downtown. He made a lot of money. After the Civil War he moved to Walnut Hills to a mansion on Elm Street. After Walnut Hills joined Cincinnati in 1870 Gordon served on the School Board. He sold the bricks used to build the Elm Street Colored School. He made friends with many African American teachers. This sketch shows Robert Gordon working at his coal yard.
Peter Clark
The African American educator Peter Clark lived in Walnut Hills. He helped organize the Brown Chapel African Methodist Episcopal Church. The City of Cincinnati collected taxes from Black residents. By law, the city was supposed to provide education to Black students. But the city refused to but refused to pay their teachers. Peter Clark became the first Black teacher in Cincinnati in 1856. The community had to sue the city to force them to pay him. Clark first taught and then became Principal at a School downtown and later at the Gaines School, a Black High School and Teachers College. Clark Montessori School in Cincinnati is named after Peter Clark.
Frederick Alms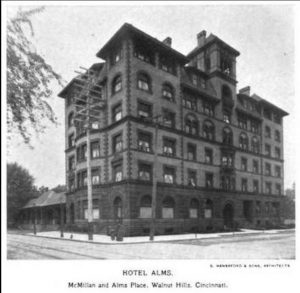 In 1891, Frederick Alms bought a mansion next door to Robert Gordon. He built a large apartment building on McMillan, just across Elmwood Place (later renamed Alms Place, now Victory Parkway) from his home. He intended the place as a home for families who "could have the fine air of a hill-top." The new building also shared with his residence a magnificent view down the ravine (since filled in by Victory Parkway), beyond Francis Lane and past the Emery mansion Edgecliff to the Kentucky hills in the distance. Samuel Hannaford designed the hotel. The Frederick Douglass School built a few blocks north in 1911 looks something like the Alms building with different materials and colors and the big square tower .
Mary Emery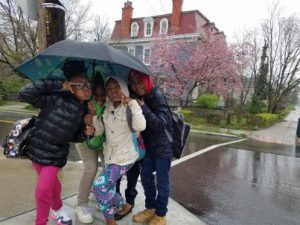 In 1883, three Episcopalian women determined to open a new hospital in Cincinnati to care for sick children. The idea originated with a Mrs. Robert Dayton. Mrs. Dayton wanted to save sick children from the frightening and dangerous environments in adult hospitals at the time. She approached the Episcopal bishop Thomas Jaggar with her idea; he suggested that she might speak to other women in the diocesan churches. Mrs. Dayton enlisted Isabella Hopkins, who in turn recruited her sister Mary Emery. Mary Emery was recognized (at least by her wealthy husband) as the founder. The hospital started out in a rented house that still stands at the corner of Yale and Park, between today's Douglass and Spencer Schools.
For more biographies and related information, see our Douglass School Black History Month Project 2019