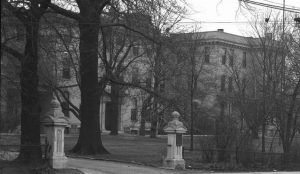 As we have seen, the height of the "Spanish Influenza" Pandemic reached its peak in Cincinnati in late 1918. The Health Department ordered schools in the city closed for most of October, November and December to limit transmission of the infection. The Catholic Schools observed more or less the same closure schedule as the Public Schools. The order was lifted in the last days of December, and schools mostly returned to something like normal in 1919. The Spanish Flu nonetheless flared up again in February 1919. This wave was nowhere near as deadly as the last quarter of 1918; whether this was owing to mutations or herd immunity or more practiced hygiene I leave to those more prescient than me.
Whatever the cause, the secondary or tertiary wave did cause the closure of one school in Walnut Hills on February 22.
"St. Ursula Convent and Academy, McMillan Street, opposite Woodburn avenue, was closed yesterday because of an epidemic of influenza among teachers and pupils. Dr. Emanuel Schwab, who recommended that the school be closed, said there were 20 cases of influenza at the institution, 10 of which were among the nuns."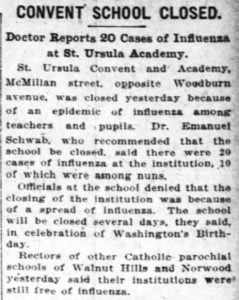 Other Catholic Schools in Walnut Hills and Norwood reported no incidence or the disease, although, as a precaution, the Sisters also closed the Ursuline Academy on Reading Road at Oak Street. Both schools officially said they were observing an extended break for Washington's Birthday, which (for those who don't remember the pre-President's Day era) occurred on February 22.
Within a week, the Catholic Telegraph reported that all the students had recovered, and that "the Sisters who were also victims of the epidemic are doing remarkably well."