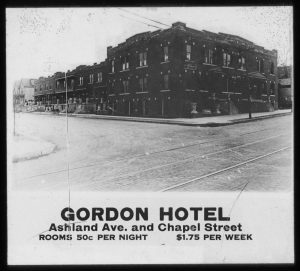 Jacob Schmidlapp (see a recent low-cost housing post) continued his mission to produce affordable, decent housing in Walnut Hills from 1911 until his death in 1919. Another project called the Gordon Hotel, provided an alternative to the rooming houses in the neighborhood. Schmidlapp himself provided an excellent summary of the building in his short book "Low Priced Housing for Wage Earners," published a few months before his death:
"As early as 1914 some of the local colored leaders impressed upon me the necessity of Hotel accommodations for colored. The position of the self-respecting Negro stranger, who has no friends to recommend him to a private family, is pitiable indeed. In 1916 we commenced construction of the Gordon Hotel for colored, with baths, steam heat and electric lights. Because of the uncertainty of the undertaking we were cautious to construct the rooms so that they can easily be converted into four-room apartments. The basement of the Hotel and the adjacent apartments is arranged in a spacious lobby, dining room, dressing room and two halls for meeting and amusement purposes. The Gordon has been in operation since 1917 and has proven a moral and financial success. It has become a useful institution in our community."
Unlike the nearby Manse Hotel which was a fairly luxurious alternative to the old segregated Alms Hotel on McMillan at Alms Place or the downtown hotels for African American travelers, the Gordon offered decent housing to the newly-arrived migrant. It served that purpose into the Depression; in the mid 1930's it was converted to apartments. In addition to housing, the Hotel Gordon provided the African American community with at least of few job opportunities; the on-site manager was African American.