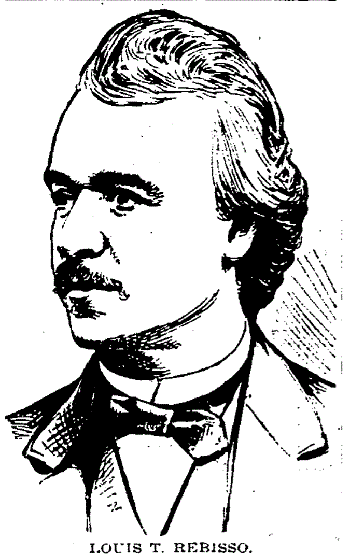 Louis T. Rebisso lived on Lincoln Avenue in Walnut Hills for practically all this working life as a sculptor and as a teacher at the McMicken School of Design in Cincinnati. From his arrival in Cincinnati in 1870 until 1895, he made his home at what is now 1020 Lincoln Avenue. He maintained a studio behind the house from 1873 through at least 1897, mid-block between Lincoln and Foraker. The design school was renamed the Cincinnati Art Academy in 1884 and moved to the grounds of the Cincinnati Art Museum in Walnut Hills in 1887; Rebisso remained on the faculty until his death in 1899.
Born in 1837, Rebisso grew up in a wealthy family in Genoa, Italy. As a teenager he studied with leading sculptors in the region. At the age of 20 he joined one of Giuseppe Mazzini's many unsuccessful attempts to establish a unified Italian Republic and, when it failed, Rebisso had to flee his homeland. His story is like those a generation earlier who engaged in failed revolutionary activity to form a unified, liberal Germany sometimes known as the Forty-Eighters. The young Italian revolutionary, largely protected by his well-connected father, was offered safe haven in France. An idealist, Rebisso determined instead to move to the United States, where he could breathe free, democratic air. After a stint in Boston, he came to Cincinnati in 1870.
True to his ideals, Rebisso settled on Lincoln Avenue (then called Sycamore) which (as we have seen from the 1870 census) was always a majority Black street in Walnut Hills. His house was on the north side of the street a few doors west of Park. In our fast-growing and culturally exploding city Rebisso offered his classically trained talents as a sculptor in marble and bronze. From 1870 through 1876 Rebisso listed only his home address at what is now 1020 Lincoln Avenue. In the early 1870s he joined the faculty of the McMicken School of Drawing and Design downtown; founded in 1869, it was only a few years old when Rebisso brought the sensibilities of his Italian training to teach modelling and sculpture.
In addition to his teaching duties, Rebisso had a career as a working artist. In 1876 he partnered for a few years with a Thomas O'Hare on Vine Street downtown. In 1878 he joined with a German sculptor, August Mundhenk, and with an expert in casting bronze, Conrad Walther, to form the Cincinnati Art Foundry. (Walther had accompanied the Tyler Davidson Fountain from Munich as a representative of the foundry that cast the bronze, to direct its assembly on Fountain Square.) The three immigrants ran the only art foundry west of the Alleghenies, located just below Walnut Hills near the foot of Hunt Street (now Reading Road) nestled among breweries and Dry Goods stores including the old Alms and Doepke building, wedged in behind the Cincinnati Art Pottery building.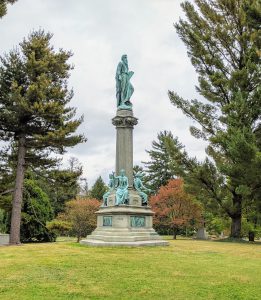 Masons and other so-called secret societies provided connections in the city. Rebisso allied himself with the Independent Order of Odd Fellows, the largest fraternal organization in the country; his wife joined the sororal Rebekah Lodge in Walnut Hills as well. The Odd Fellows acted as a sort of mutual aid society; dues went to paying expenses of ill members and to defray burial costs. A decade-long fund drive launched in the early 1870s raised $20,000 to build a monument in Spring Grove Cemetery. Individuals plots where deceased Odd Fellows could be interred were arranged in concentric circles and owned by local lodges. Rebisso won the lucrative contract. The monument, dedicated in September, 1881, still stands in Spring Grove Cemetery, then as now an advertisement for the capabilities of the Cincinnati Art Foundry.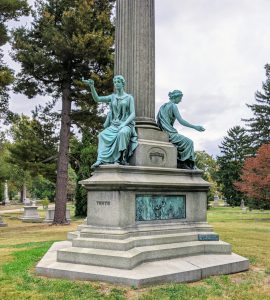 The Memorial, made exclusively of granite and bronze, provides a sort of master class in the sculptural possibilities of those materials. Soaring more than 30 feet high, the granite was a study in threes: a triangular base had three truncated corners with the words "Truth", "Love" and "Friendship" standing out from the planes. Atop the base is another triangle providing seats for three bronze virtues; on the faces between the seats are three recessed granite ellipses with polished ribbons declaring "Visit the Sick", "Relieve the Distressed" and "Bury the Dead." Arising from the triangle there is a triple fluted column with what appear to be Ionic Capitals, though a contemporary description characterized them as Corinthian.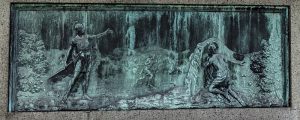 The metalwork is equally varied. On the base, below the recessed granite ellipses, are three rectangular bas relief tablets depict allegorical scenes from the Old Testament, the bronze precisely incised in the granite base. The larger-than-life female figures cast in the round and seated above the base certainly look classically Greco-Roman, with appropriate allegorical touches: Truth holds a lamp; Friendship a leather-bound bundle of sticks known as fasces, a Roman symbol of unity and strength (later appropriated by the fascists in Italy); Love offers only an embrace. Yet the draping of the cloth is soft and sensual – more so, certainly, for Love than for Friendship, but most of all for Truth. Atop the granite column stands a ten-foot bronze figure of Moses in robes as flowing as those of the virtues, carrying the allegorical tablets. Finally, to make the repertoire (and the advertisement) complete, a bronze maker's plaque on the base declared "Rebisso, Mundhenk & Co. Cincinnati, O"
Geoff Sutton