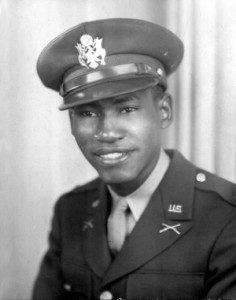 Lawrence Hawkins was born in South Carolina in 1919, the son of a sharecropper. His family moved to Cincinnati in 1926, and he enrolled in Frederick Douglass School, the African American school in Walnut Hills. One biographical sketch notes "It was there he received a strong foundation which carried him through Walnut Hills High School and the University of Cincinnati." At UC Hawkins was a fraternity brother to Donald Spencer; like Spencer he received his degree in education.
Graduating in 1942, Hawkins joined the army; found himself assigned to the infantry at a training camp in Texas. His education earned him a place at Officer Training School where he was promoted to the rank of Lieutenant, still in the Infantry. He soon transferred to the Army Air Force Navigation School and then to bombardier school. He was assigned to the famous Tuskegee Airmen, the first unit of African American fliers during World War II. The Airmen's celebrated story served a leadership training for all its members.
Lieutenant Hawkins remained grounded in Cincinnati. In 1943 his marriage license showed his address on Preston Street, in the heart of the Walnut Hills African American community. After he mustered out of the army he returned to Cincinnati and went to work as a teacher in Cincinnati Public Schools. He began his career in the old West End, teaching in the Twelfth District on West Eighth Street. In 1950 Mr. Hawkins won a six-week fellowship from a memorial fund set up by the Cincinnati Public Schools in honor of long-time board member Samuel Ach. Hawkins enrolled in a workshop at New York University. He continued his education studies at the University of Cincinnati, earning first a master's degree in 1951 and later (1970) a Ph D.
In 1957 was chosen to head up Samuel Ach Jr. High School in the heart of South Avondale, a neighborhood next to Walnut Hills which by that time was predominantly African American. "I was told this would be an experiment to see if Blacks could serve as school principals. I was also told that it was impossible to do anything with Samuel Ach because the students were to dumb and too unruly to learn anything." In fact, Hawkins proved a good enough mentor that eight teachers who worked under him went on to become principals. In 1964 he established the Cincinnati Public School Division of Educational Opportunity and worked his way up in the district to become an assistant superintendent in 1967.
In 1969 Dr. Hawkins moved to the University of Cincinnati where he was appointed Professor of Education and Community Services. That year he also became the founding dean of the College of Community Services – the first African American dean at UC. It was a tumultuous time. The Cincinnati riots of 1967 had their epicenter in Avondale, very near the Ach Junior High building. Dean Hawkins also found himself embroiled in questions of Women's Liberation; the academic administration seemed to think that women's studies should somehow be the responsibility of the College of Community Service.  Dr. Hawkins was appointed vice president for continuing education and metropolitan affairs, and his title was elevated to Senior Vice President in 1976.  Yet he gave the impression that he felt kicked upstairs, away from the daily affairs of education. By the early eighties the College of Community Service had be defunded and abolished. The University still had only one Black dean — at the two-year University College, which would itself disappear during the next decade. Dr. Hawkins was moved to emeritus status in 1984. He went on to found a management consulting firm based in Avondale.

Despite his frustrations at the University, Dr. Hawkins played a continuously active and increasingly influential role in Cincinnati. A resident of North Avondale, he acted as an advocate for that racially integrated neighborhood. After his retirement from UC he stepped up to city-wide advisory posts, acting as chair of the Mayor's Police Community Relations Panel and advising the fire department on the selection of a chief. He had a life-time involvement with non-profit boards including Cincinnati's Educational TV station the Ohio Citizens' Council for Health and Welfare, the Greater Cincinnati Scholarship Association and Bethesda Hospital. He also served on the board of the Cincinnati branch of the Federal Reserve Board. Most consequentially in monetary terms he joined the board of the Western and Southern Financial group. Dr. Hawkins played an important role in the creation of the National Underground Railroad Freedom Center and secured a grant of half a million dollars from Western-Southern. A few years before his death in 2009, Western-Southern created an award to honor an educator in the Cincinnati Public Schools.