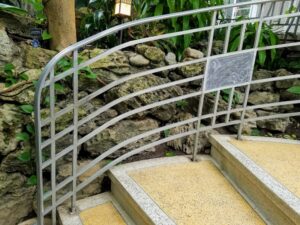 Art Deco in Walnut Hills
The Krohn Conservatory, a large greenhouse in Eden Park built in 1933, is an Art Deco gem hiding in plain sight. Most characteristic, perhaps, is the use of aluminum castings – at once representing metallic durability and modern, lightweight, high-tech industrial production. The botanical plaque hangs in the delicate, open metal grid of the stair rail as light and airy as the frame of the glass house that encloses it. Similar decorative plaques also adorn the exterior doors in the wings.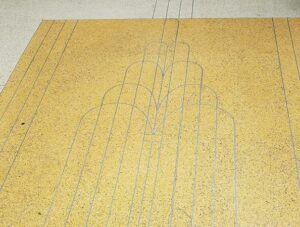 The terrazzo floor in the lobby, carried down the steps, is classic art deco. It has certainly suffered the slings and arrows of outrageous foot traffic but holds up remarkably well for an original floor approaching 90 years of use. Aluminum strips in the floor serve not only to separate colors, but also as geometrical patterns lending visual interest. The grinding and buffing machines used to finish and polish the floor made even quicker work of the soft metal than of the concrete and stone materials in which it was set.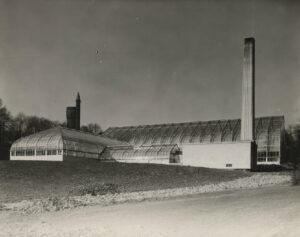 Art Deco buildings usually present bulky solidity clad in heavy materials like stone and brick. A glass house would hardly seem to fit the style. Yet even in terms of the massing of the building, a construction photographer offered a perception of the volumes that fit the Art Deco mold. Captured from the back side, the heating plant takes pride of place with its chimney at once massive and delicate with vertical decorations, not quite fluting, in the heavy concrete. (This is surely the second-coolest Art Deco smokestack in the neighborhood.) The truly massive old water tower on the hill in the background was already in the early 1930s a disused Victorian architectural folly, diminished by the photographer to a shadow of the industrial smokestack that dominates the scene. The fussy conical turret to its right punctuates the waterwork as the smokestack punctuates the greenhouse. (It is only in retrospect that the Conservatory lines seem to show later Art Deco streamlining.)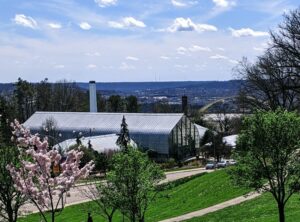 The modern view, taken from the foot of the water tower, shows the Krohn shining above the city in the basin, with another graceful metal arch, the yellow Daniel Carter Beard Bridge, from this perspective apparently floating above the front of the greenhouse.