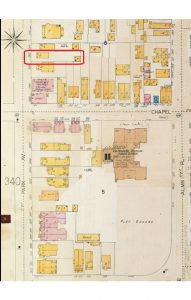 James and Mary Smith lived in the African American settlement near the Elm Street Colored School, on Maple Street (later 2912 Park Avenue). They were within a few blocks of Dangerfield Earley's home. In 1875 their daughter Grace was born, the second of five children in a home that "maintained the ideals of culture and education toward which the children were guided." Grace attended the Elm Street School in Walnut Hills until the age of twelve, when she enrolled at Woodward High School. She graduated from Woodward High School and the University of Cincinnati.
It seems both Grace and one of her siblings became teachers in the Cincinnati Public Schools; the board's report for 1901 listed a W. W. Smith at the Park Avenue address as a teacher in a branch of Garfield School downtown. Grace married William Slade and started teaching in the old Elm Street School building in Walnut Hills in about 1902; it is reported that she suggested Frederick Douglass as a name for the school. William Slade moved into the Smith household; Grace Smith Slade lived her entire 81-year life in the house.
Mrs. Slade taught at Douglass for 43 years. A life-long learner, she studied at the Harvard Summer School and at the University of Chicago. She also did graduate work in education at the University of Cincinnati in the 1920's and was a member of the Delta Sigma Theta sorority. Her will left a bequest to endow scholarships for young African American woman.
Mrs. Slade played an active role in the life of Walnut Hills. With several siblings she was active in Brown Chapel AME Church, which was on the same block as her home, and in its missionary society. She also helped to organize the Cincinnati Federation of Colored Women's Clubs, a federation of service organizations mostly associated with African American churches. She became the president of the Federation and helped raise the $1000 down payment on the club house at 1010 Chapel in 1925.
Like her colleague James Robinson at Frederick Douglass School she was active in social work on behalf of African-American Cincinnati. With him she was a member of the board at the Shoemaker Center in the West End. She acted as the chair of the West End branch of the YWCA. The Federation of Colored Women's Clubs continued to award Grace Slade fellowships for more than 15 years after her death in 1956.