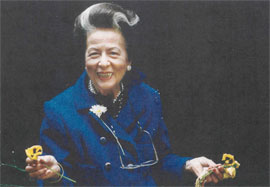 Frances Jones Poetker, of "Jones the Florist," was born in Walnut Hills in 1913. The family had moved the floral business from Northern Kentucky to McMillan Street around 1900, and lived on Park Avenue, immediately around the corner from the shop. In the late 1920's they constructed an elegant new building with a three-story atrium surrounded by Moorish arches and covered with a skylight. The eldest child, Frances grew up in the business, caring for and arranging flowers from childhood.
After graduating from Walnut Hills High School Frances went to Vassar College and received her baccalaureate with a major in botany and ecology; returning to Cincinnati, she earned a master's degree studying local plant habitats. During the 1930's Frances bought the business from her father. She became Cincinnati's "first lady of flowers," in great demand for weddings and parties. Her collection of nineteenth-century "poesy holders" is ensconced at the Smithsonian Institution; 55 of her hatpins grace the Cooper Hewitt. Indeed, she gained national prominence – the county's "first lady of floriculture" – for her innovative arrangements, often inspired by her understanding of ecology. She travelled the country and the world, often judging floral shows or making arrangements for museums or prominent events including the Lake Placid Olympics in 1980. The American Horticultural Society named an award for arrangement in her honor.
As impressive as her artistic accomplishments are her business innovations. All accounts attest to her hard work – long hours and constant travel. She noted "I was the first woman on the board of the Society of American Florists, which was created by an act of Congress in 1881." Cincinnati became a center of wholesale flowers and decorative houseplants. She was an early radio and television spokesperson for Florist Telegraph Delivery (FTD), and an early adopter of shipments by air. Her business acumen led to a seat on the board of Cincinnati Bell – the first woman to join a board in the Bell Telephone system.
Frances Poetker collaborated with her friend Marion Rombauer Becker, Cincinnati author of The Joy of Cooking, and her University of Cincinnati teacher Paul B. Sears, who had gone on to teach ecology at Yale, on a 1971 book called Wild Wonders.