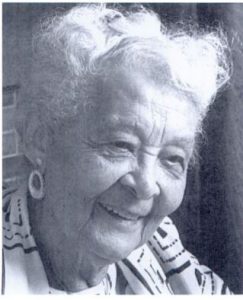 Loretta Cessor, born in 1896 in Gallipolis, Ohio, had African American, Irish and Native American ancestry. Her mother was a teacher who played the piano and the guitar. Loretta proved a natural pianist, playing in her Sunday School from the age of six, and in her church while still a child. At about 15 she joined a small orchestra and played around Huntington, West Virginia, just across the river from Gallipolis.  Within a short time, she was earning $25-35 a week – causing her father to give up his $10 a week job in disgust. Her work was usually congenial, although she remembered an occasion when she played the dinner hour in a hotel and the owner put a screen between her and the diners – she claimed it was the only time in her life when she was really hurt by racism.
At the age of 16 she was engaged to be married to William Langston Manggrum, from Huntington. Around the same time Loretta's mother became ill, so the teenager dropped out of high school care for her mother and put her own wedding plans on hold for 6 years. The couple married in 1918 and moved first to Milwaukee and then to Pittsburgh, where her husband went to study pharmacy. Loretta, with young children, again played the piano to supplement the family's income. Her venue in Pittsburg was the moving picture house; she accompanied the silent films, sometimes following a suggested score but more frequently improvising music of her own to captivate the audience.
After William graduated from the Pharmacy School at the University of Pittsburgh in 1921, the couple move back to Huntington and then to Cincinnati. Some sources suggest that the Manggrums settled in Cincinnati and opened their drugstore in the late 1920's although the city directory does not list them before they took over an existing drugstore on Chapel at the corner Park in 1935, in the depths of the depression. Around 1940 their daughter, Lillian enrolled at UC, along with her cousins Marian and Mildred Spencer who lived with the family above the drug store for their first ear in Cincinnati.
As the business succeeded and children grew up, Loretta Manggrum began to pursue her own interests and enjoy life. In 1945 she earned her diploma from Hughes High School at the age of 49 – an opportunity she had missed as a teenager when her mother became ill. The Manggrums bought a comfortable house at 1326 Lincoln Avenue, a few blocks from the pharmacy.
Loretta spent several summers studying music at various colleges: she began with a beginning piano class at Fisk University, an African American institution in Nashville Tennessee. Other summers saw her at Capital in Columbus and the Chicago Conservatory. Next, she enrolled for another summer course at Ohio State. The dean of the music school refused to admit her for just one summer; he demanded that she enroll in a degree program. Manggrum agreed and earned a bachelor's in music in 1951. She then "broke the color barrier" at the Cincinnati Conservatory of Music, becoming the first African American student to enroll in that predecessor to UC's CCM in 1951 and the first to receive a degree – her master's, in in 1953, at the age of 57.
Loretta was also active in the Walnut Hills religious music scene. She became the organist of Brown Chapel AME Church on Alms Place and directed the Senior Choir there. As she became and increasingly serious composer, she had the choir perform her own music in afternoon concerts.
Around the time Loretta earned her Master's, her husband became seriously ill. The couple had to sell the pharmacy; Loretta cared for her husband during his battle with cancer. William Manggrum died in early 1955. Loretta launched a new career at the age of 65: for ten years she taught music full time at Garfield School.
In 1976, at the age of 80, she returned to CCM, officially to pursue a Ph. D. but most, she said, to get back to work on musical composition. She also took over as organist and music director at the Gaines United Methodist Church in Madisonville. In Madisonville, she mentored young musicians, on one occasion at least winning a scholarship to the CCM preparatory school for a Walnut Hills High School student named Eric Oliver. He returned the favor in 2010, organizing the Loretta Manggrum Chorale to sing her music. A rare African American composer of serious classical music, Manggrum was invited to organize her scores and donate them to the Library of Congress. In 1985, at the age of 88, she received an honorary doctorate in music from UC. Manggrum died in 1992.