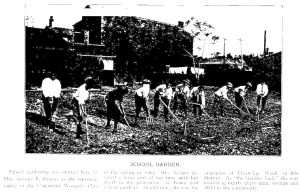 This photograph appeared in the 1920 celebration of the tenth anniversary of the new Frederick Douglass School building. The caption reads:
"School Gardening was started here by Mrs. George B. Kerper as the representative of the Cincinnati Women's Club in the spring of 1909. Mrs. Kerper devoted a large part of her time until her death to the promotion of home and school gardens.  In addition, she was the originator of Clean-Up Week in this district. As 'the Garden Lady' she was known to nearly every man, woman and child in the community."
With Mrs. Kerper's encouragement Douglass School won a city-wide prize for its school garden in 1910. Perhaps the presence of many recent migrants from rural agriculture in the school had some effect as well.
George Kerper was active in the original cable car up Gilbert Avenue among other transportation projects. Kerper Avenue (now near I-71) was named in his honor. It's interesting that the wealthy white woman worked in the community around the segregated Douglass School