William DeHart Hubbard was born in Walnut Hills in 1903, named after the
well-respected principal A. J. DeHart at the segregated Frederick Douglass School in the neighborhood. Hubbard went on to the original Walnut Hills High School at Ashland and Burdette, just three a three block walk from Douglass. At both schools he was a star athlete, especially in track and field but also in team sports.
Hubbard is best known as the first African American to win an Olympic Gold Medal, in the long jump at the 1924 Olympics. The next year, competing for the University of Michigan, he set the world record at 25 feet 10 ½ inches. He won the AAU long jump six years in a row, 1922 – 1927. In 1925, The Michigan Alumnus magazine reported, "our colored speedster covered 100 yards in 9 3/5 seconds, tying the world's record." He matched that in 1926, with an official time of 9.6 seconds in an amateur meet. He competed injured in the 1928 Olympics, finishing eleventh.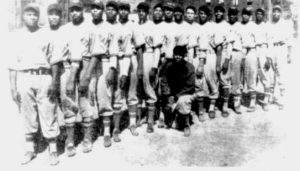 Hubbard returned to Cincinnati in 1926 and went to work for the Cincinnati Recreation Commission. He supervised the Negro athletics leagues for fifteen years. It's hard to imagine that a still world-class athlete took on that position. Hubbard's connections with the amateur baseball community allowed him to organize the Cincinnati Tigers in 1934. The team managed to scrounge used Cincinnati Reds uniforms and to play at the highest amateur levels. The Tigers joined the professional Negro American League in 1937, and played at Crosley field, the Cincinnati Reds stadium. The team drew well – some reports say as well as the Reds, but money was tight at the depths of the recession and the professional team folded after their first season.
– Geoff Sutton